"... Making a quilt of this pattern was a way of sending a family member off to achieve his country's goals and/or to find his fortune."1

About the Wandering Foot patterns
Be sure to look at The Wandering Foot Quilt History page to learn the facts and myths behind this quilt pattern.
I've chosen two options for this quilt pattern. For the first pattern, shown to the left, I've designed an all pieced version and for the second I am using a pattern that is both pieced and appliqued based on the version by Ruth Finley. The all pieced one is easier as it is all straight seams.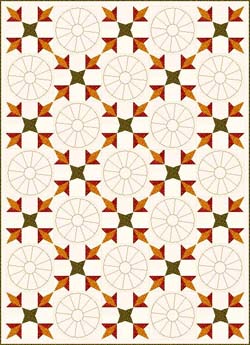 The second pattern involves curved piecing as well as applique. It is the more difficult pattern and more traditional. Find it at Appliqued Wandering Foot. I'm also including a wagon wheel quilting pattern for those of you who might want to use a symbol of the journey west in your quilting.
Cutting the Fabric
Because of the varied angles required I'm giving you templates for this pieced pattern. You will find them at Pieced Wandering Foot PDF.
The number of blocks you will need depends on the size quilt you want. On my quilt I included a one inch border of the background fabric to put a little space between the binding and blocks. A border of a contrasting fabric could be used as well.
Steps for making the pieced Wandering Foot block
Sew the pieces of this pattern together in the order shown below.
1

2

3

4


5

6

7

8

The wagon wheel quilting pattern can be found at the Wagon Wheel PDF
© 2007 Judy Anne Breneman
print a printer friendly version of this page
Reference:
1 p154, "The Oregon Trail", by Mary Bywater Cross